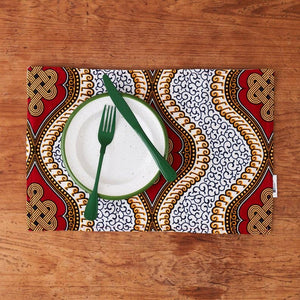 These African print placemats are not only a decorative dream, they also protect surfaces from heat damage and abrasions whilst effortlessly adding style and color to your dining experience.
Sold as a set of 2,
Each placemat is made of 100% cotton African print on top and lined with unbleached cotton on the under side. They are machine washable, making them suitable for repeated for everyday use.
Team them with our matching (or even mix and match if you are feeling daring!) table runners and napkins to style your dining table.
Size: 45cm x 30cm Care instructions: Machine wash at 40c, do not tumble dry.
THIS ITEM IS A PRE-ORDERED ITEM AND WILL START SHIPPING 1-2 weeks AFTER purchase