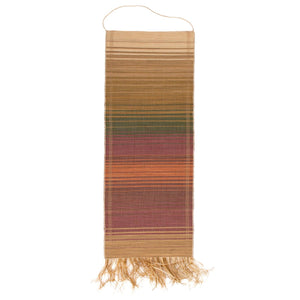 HANDWOVEN IN UGANDA Natural fibers and simple lines combine in this wall statement to create a lively, earthen, everyday staple. Expert weaving brings the wall new warmth and shows off expert craftsmanship with a calming, refreshing sense of organic beauty.
Specifications:
* Approximately 39" H x 14" W
* Fair Trade
* Made in Uganda
* Products are made of raffia
* Organic dyes are used to dye the raffia
* Profiled weaver tag is attached to each product
*These delicately textured and handcrafted woven loom pieces were made by groups of women in Uganda, in an ethical, fair trade environment. Care Instructions:
* To clean simply wipe with a damp cloth.
* Avoid using chemicals or detergents.