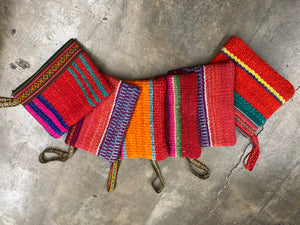 Peruvian Aguayo Pouch
Our colorful Aguayo clutch pairs perfectly with a jacket and jeans, or a dress and over the knee boots, easily taking you from the farmers market to an autumn night out on the town! This clutch can also be used as a tablet case or as an organization pouch, making it great for travel.

Handmade from a traditional Peruvian Aguayo, this one-of-a-kind bag was crafted by artisans in the Cusco region of Peru.

Handmade from vintage textiles
Wool and natural dyes
Approximately 8.5" x 6.5"
Handmade in Peru
Please note: due to the handmade and/or vintage nature of our products, there may be slight variations or minor imperfections. We do not consider these defects and believe that these details add to the charm of the product. Please feel free to email us if you have questions about a specific item.