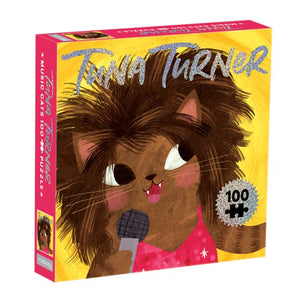 Tuna Turner Music Cats
Introduce another music legend to your family with this puzzle inspired by the iconic pop star. The Tuna Turner Music Cats 100 Piece Puzzle foil includes shiny embellishments on the box and puzzle and is great fun for everyone. Mudpuppy puzzles are packaged in matte-finish sturdy boxes, perfect for gifting, reuse, and storage. - 100pc puzzle: 14 x 14, 35.5 x 35.5 cm - Foil embellishments on puzzle and box - Box: 7 x 7 x 1.5, 18 x 18 x 4 cm - Ages 6-99 - Puzzle grey board contains 90% recycled paper. Packaging contains 70% recycled paper. Printed with nontoxic inks.
Tuna Turner Music Cats 100 Piece Puzzle This funny cat puzzle has gold foil embellishments on both the pieces and the box to add an extra element of appeal.
ROZELAAR, ANGIE