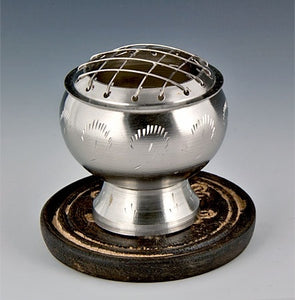 Chrome Charcoal Burner w/ Brass Screen & Pewter Finish - Om Imports
One of the smallest in our product line. This adorable chrome charcoal burner with coaster is designed for small, open areas.
Materials: Chrome, Brass & Pewter
Size: 2" Diameter, 2" Height
Note: Coaster color may vary 
Warning: Always be attentive and safe when burning incense, resins and charcoals. Keep away from flammable items, children and pets.