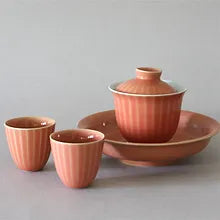 Coral Gaiwan, 2 Cups and Saucer. StripesGaiwan: 3"dia. x 3-1/4"h.
Cup: 1-3/4"dia. x 1-3/4"h.
Saucer: 5-1/2"dia. X 1-1/4"h.
Color:      Coral Red
Material: Ceramic
Origin:     China
Description: 
This stylish gaiwan set with a gaiwan, two cups, and a large saucer.

Its style and unique coral red glaze make the tea serving experience very elegant and joyful.