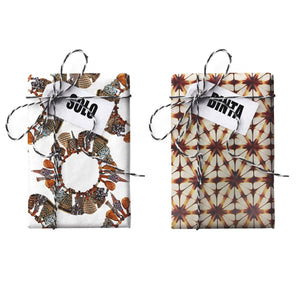 FOLKUS Stone Paper is:
Liquid/Tear/Grease/Bacteria Resistant
Tree/Water/Bleach Free
Size: 30 Square Feet / 76.2 cm x 3.05 m
Inspiration Notes:
The Binta and Solo design combination is a tribute to African adornment via accessories and textiles. Binta is inspired by the ancient craft of indigo dyeing which is believed to have originated in Kano in Northern Nigeria where the Kofar Mata, the dyeing pit still operates. Solo features a African charms fashioned into a beaded belt.