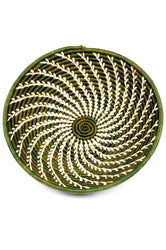 Green & Natural Sata Basket
Artisans in Kenya and Uganda hand weave dyed strips of raffia palm and plant stalks to create these gorgeous decorative baskets. Whether displayed on the wall or put to use on the tabletop, each handmade basket serves beautifully.
Sold singly. Because this is a handcrafted item, colors and patterns may vary slightly.