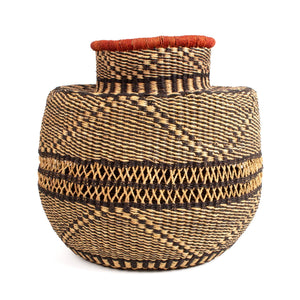 HANDMADE IN GHANA These woven baskets are ideal for any room in your home. Mix and match them with other woven baskets and accent furniture for the perfect style addition to a corner of your bedroom, bathroom, home office, or living room. These intricate designs will surely leave a lasting impression in your home decoration.
Specifications:
* Approximately 17" W x 16" H
* Fair Trade
* Made in Ghana
* Products are made of elephant grass
* Organic dyes are used to dye the grass
* Profiled weaver tag is attached to each product
*These delicately textured and handcrafted woven baskets were made by groups of women in intimate communities in the Bolgatanga region of Ghana in an ethical, fair trade environment.