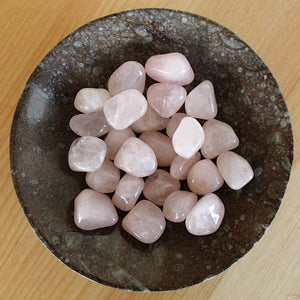 Tumbled Rose Quartz (Crystals & Stones) - Pebble House 
Rose Quartz SELF-LOVE | FORGIVENESS | RELATIONSHIPS Rose Quartz is found worldwide and can appear anywhere from a pale milky pink, to intense deep pink hues. It is the ultimate healer of romantic relationships, friendships, family bonds, and self-love. 
Approximate weight: .25-.5 ounces each. Approximate size: .5" x 1"
Please note, stones are natural and WILL vary in precise size, shape, color, pattern, etc., and may not exactly match photo.