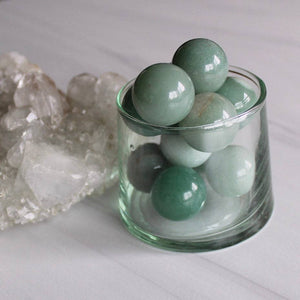 Aventurine Mini Sphere (Crystals & Stones) - Pebble House 
Aventurine HEALING | CALMING | CREATIVITY Aventurine brings great physical healing. It soothes the nervous system, and calms anger and irritation.
This listing is for ONE (1) Aventurine Mini Sphere.
Approximate weight (may vary slightly): 0.30-0.50 oz Approximate diameter (may vary slightly): 0.50"
Please note, stones are natural and WILL vary in precise size, shape, color, pattern, etc., and may not exactly match photo.