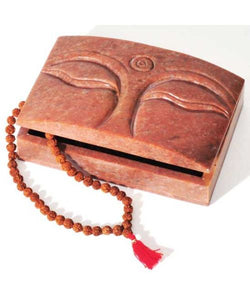 Stone Box Buddha's Eyes
Hand carved Buddha's Eyes hinged soapstone box.
6" x 4" Rectangle.

Soapstone is most often used for applications where detailed carving is required. Soapstone has a high talc content, which makes it softer and easy to carve. Indian soapstone is available in a variety of natural colors. Unpolished or unoiled, soapstone has a whitish or gray color. Once polished or oiled, the rich colors and grain patterns in the stone are exposed. Each piece has its own unique character.
Stone carving has a long and rich history in India. Carving skills are passed down through generations from father to son. Today artists use a hand held dentists drill to create the intricate patterns and designs.