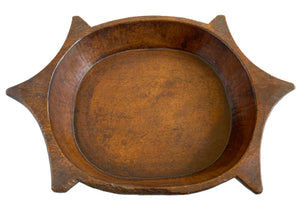 Vintage Wood Bowl with Handles
These beautifully hand crafted bowls with handles have been hand carved by artisans in India and reclaimed by ourselves.  Each is unique and will vary in size, shape, and handle detail. 
The bowls are very tactile and can be used for various things. They can be used as fruit bowls, table centerpieces or simply displayed upright amongst other ornaments if you wished.
We love that each piece has it's own characteristics depending on the person who carved the piece. Due to these bowls being vintage, slight nooks and "imperfections" may occur, adding to their charm. 
Size: Approximately 20x15in
bb