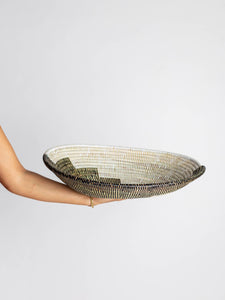 Senegalese Tray
This large trays can be displayed together or separately for a beautiful storage solution. These trays have gorgeous hand-woven detailing. They are woven in Senegal with straw and recycled plastic. Use for fresh fruit in the kitchen or your favorite vanity items on your dresser!
Please note:
All of our products are handmade, delicate, and one-of-a-kind. Products may vary slightly in size and design from photos.  
What are Senegal baskets made of?
The baskets are woven using local wild harvested millet grass blades which get dried and bundled and then woven into basket shapes using a long needle and strips of plastic. This gives them durability and stability, as well as the option to create colorful, contemporary designs.

Details:


Tray Dimensions: - L: 18" x 14"

 Made in Senegal
Eco-friendly information
 Packaging: Recycled
 Product Materials: Recycled
 Production: Ethically sourced