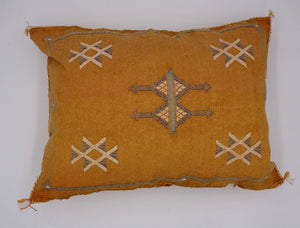 Cactus Silk Pillow Cover Rectangle - Voyage 
Hand-woven from agave and naturally dyed with vegetable pulp, these pillows are as beautiful as they are durable. With hand-embroidered detailing and camel wool threading, we believe they work just as well outside as they do in. Due to the handmade nature of our products, each is a work of art; a one-of-a-kind piece with slight variations in color, texture and shape. Our floor cushions, rugs, and pillows are handmade by the artesian Kabir in Safi, a small port city on the Atlantic Ocean.
Available with and without insert.
Colors: Available in faded pink, faded baby blue, faded denim, faded yellow, faded orange, white. Ask to see pictures.
Size: 16"x20" Care Guide: Spot clean with a damp, slightly soapy cloth. Dry clean if needed, but do not machine wash!