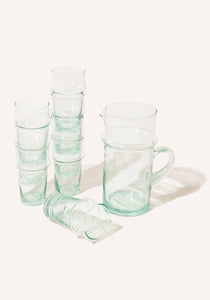 Moroccan Crystal Blue Glasses - Set of 8 and 1 pitcher - Voyage
Our Crystal Blue Water Glasses are eclectic tumblers, perfect for everything from your morning juice to your evening cocktail. Their mesmerizing coloring is made up of a variety of colors of recycled glass. With this bundle, you'll also receive our Crystal Blue Glass Pitcher — both feature a bubbled ridge, providing a better grip than standard vessels. Bottoms up. Due to the handmade nature of our products, each is a work of art; a one-of-a-kind piece with slight variations in color, texture and shape. Our glassware is hand blown in Marrakesh and made of recycled glass. Sustainability never looked so good.
Details: Set of 8 water glasses and pitcher.
Size: Glass: 4.75" tall, 9 fl oz
Pitcher: 8" H x 4" W - 36 fl oz.
Care Guide: Dishwasher and Microwave Safe