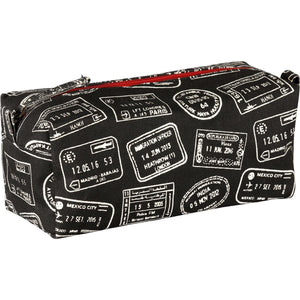 Wanderlust Black Canvas Dopp Kit
Travelers and homebodies alike will love our Wanderlust Black Dopp Kit with passport stamps from around the world. It is ideally suited to carry all one's personal toiletry and hygiene items and transport them to the bathroom, if necessary. A striking contrasting red zipper and hang loop complete this multi-purpose bag that has dozens of uses. Try using it to carry underwear, socks or a bathing suit discretely in a carryall or gym bag. Take a look at our other matching accessories in this same great pattern!
Heavy duty cotton canvas
White poly wipe clean liner
9" x 4.25" x 4"
Great gift!