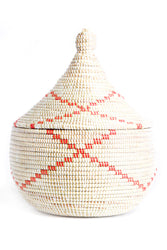 White Warming Basket Red Garland- Large

This beautiful basket is handcrafted by rural Wolof women in Senegal from cattail stalks and strips of salvaged plastic. With a snug fitting lid, our warming baskets are a perfect way to present baked goods to loved ones, or to create a memorable gift basket of your own design.
Origin: Senegal                                                                             Size: 13"D x 13"T
Sold singly.